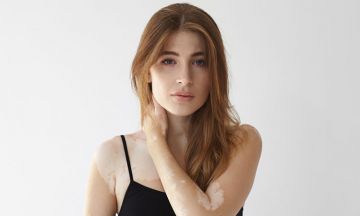 CAN WHITE PATCHES ON SKIN BE REVERSED?
CHOOSE THE RIGHT VITILIGO TREATMENT.
For a country obsessed with white and clear skin, vitiligo can be seen as an imperfection which can often result in impacting a person's psyche more than the actual illness. 'Why me?' is the question which often arises in the minds of the 0.5- 2% of the people in India suffering from vitiligo!
Also read: What are the early signs of vitiligo
So what is vitiligo? It is a skin condition in which the immune system destroys skin melanocyte cells (the cells responsible for giving skin its colour.) Vitiligo causes remain unclear however; heredity is the top most contributing factor apart from emotional stress, anxiety or fear. It is so unpredictable that a patient can wake up next morning with new white patches on skin and smaller areas of de-pigmentation can become larger. This can be quite daunting especially when one may think they are so close to completing the treatment. Many people believe it to be hereditary, contagious or worse that there is not treatment available for vitiligo. But the answer is - it can be treated.
Also read: Can vitiligo be stopped or controlled from spreading?
The American Academy of Dermatology (AAD) describes vitiligo as "more than a cosmetic problem." It is a health issue that needs medical attention. The most common vitiligo treatment options are topical creams, skin grafting and medical tattooing. There may be choice of treatments but every treatment has its own side-effects such as topical creams can lead to weight gain, acne and weakening of bones. Skin grafting is a risky procedure and if gone wrong can leave scars. Also, medical tattooing can have side-effects leading to herpes and can even trigger new white patches on the skin. The truth is most conventional methods require to be continued throughout as they only suppress the visible symptoms.
You may find comfort in your friends and family but they cannot always understand the reality of living your life nor can they heal your skin. On the other hand, to help you cope with white patches and all the social stigmas better, homeopathy takes an extended approach to correct vitiligo symptoms. It addresses your concerns for vitiligo and also its effect on your mental health.  Homeopathy is a boon for vitiligo as it doesn't just suppress but aims to trigger re-pigmentation and helps in stopping or slowing down further destruction of melanocytes.
Also read: Living life with vitiligo skin disease
It can get difficult to cope but it is essential to get the right support and homeopathy's mind and body approach aims exactly for the overall well being of health. Homeopathic medicine for vitiligo is natural, safe and can effectively treat white patches and associated symptoms of vitiligo without any side-effects. Book an appointment today to get the expert homeopathic care you deserve because the more you go out and the more you get support the more confident you will become in your own skin.