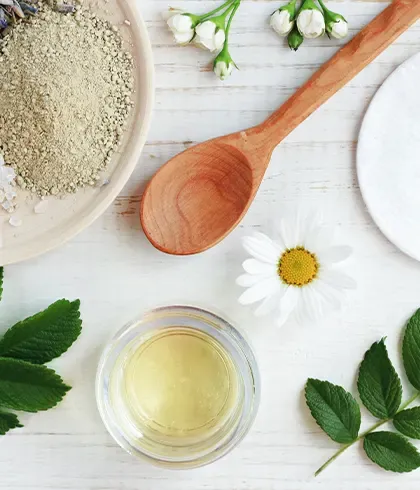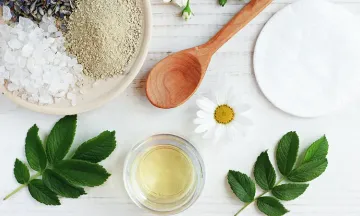 Natural Skin Treatment with Homeopathy
Anyone can have gorgeous skin! While some choose cosmetics to add a glow; others take guidance from makeup artists and stylists. However, these products can only give you short-term results, causing skin related issues in the long run. These cosmetics and makeup items cause the skin to lose its natural health. The good news is that achieving healthy, natural and attractive skin is not as difficult as you might think it is.
8 Tips for Natural Skin treatment
This blog will provide you with 8 tips to choose simple natural skin treatments that will keep your skin healthy and help retain your skin's natural beauty.
1. Tea Tree Oil
Tea tree oil is a powerful anti-microbial, anti-inflammatory, and anti-fungal substance found in nature. The phytochemicals (chemical compounds produced by plants) in tea tree is one of the more popular natural skincare remedies.
Use tea tree oil to treat breakouts, irritation, and redness. Tea tree oil is a well-tolerated component with no negative effects in the treatment of acne.
2. Green Tea
According to a study by The National Center for Biotechnology Information (NCBI), the polyphenols in green tea contain antioxidants that help repair sun-damaged skin. "Green tea offers photoprotection and anti-aging advantages."
3. Honey and bananas
A honey-banana face mask will help you achieve that post-facial glow. Bananas contain vitamins C and B6, which aid in preserving softness and eliminating dead skin cells. Honey's anti-inflammatory and anti-redness qualities helps in reducing redness, acne, and inflammation.
Combine half an organic banana and one teaspoon of organic honey in a small saucepan and heat for 10 seconds, or until warm. Wash your face with warm water to open up the pores before applying the mask. And, rinse it off after 10 to 15 minutes.
4. Rose Water
Rosewater is beneficial for your overall health and appearance. Rosewater is helpful in treating acne and irritated skin. It can chill and soothe inflamed skin. It is both a cleanser and a moisturizer for oily and dry skin. It is also an anti-aging agent because it helps tone, soften, renew, and revitalize aged skin, restoring its natural radiance.
Rosewater contains a lot of vitamins and antioxidants, which are good for your skin. It is also antibacterial, anti-inflammatory, and antiseptic.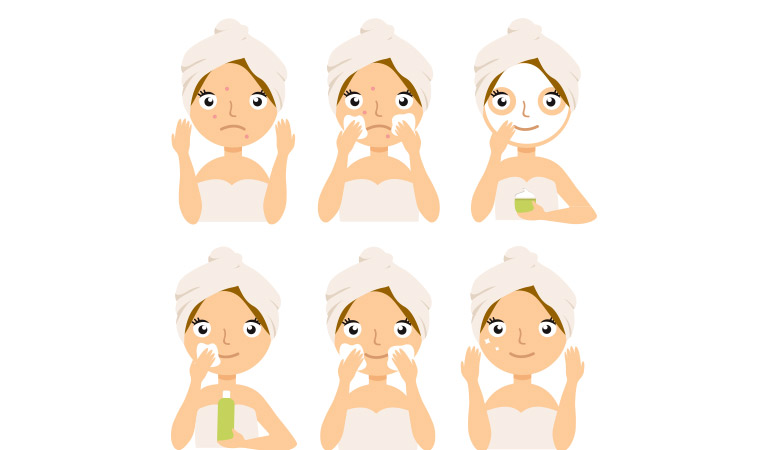 5. Sea Salt
Sea salts are seaborne crystals that consist of minerals, calcium, potassium, magnesium and sodium that can naturally make our skin better.
Add two teaspoons of sea salt in hot water and soak yourself in it for 5 to 10 minutes. Later, gently wash your skin and pat dry.
6. Sandalwood 
This essential oil successfully inhibits the growth of bacteria on the skin and reduces inflammation as quickly as any commercially available pimple cream.  Sandalwood is excellent in dealing with a stubborn outbreak. It works best when combined with almond oil, as slathering it undiluted all over your face may irritate your skin. So, use two or three drops of sandalwood in 180 ml of almond oil for best results.
7. Argan oil
Many people consider argan oil to be a fantastic skincare product for natural skin treatment. This is because it contains a lot of Vitamin E, essential fatty acids, and antioxidants. It minimizes the appearance of wrinkles, fine lines, scars, and stretch marks. It also works effectively in combating the early signs of sun damage and aging.
8. Coconut Oil
It is possibly the most well-known natural skincare product, as well as the most versatile. Coconut oil can be consumed orally as well as applied topically to the skin, because it has some therapeutic benefits in it; including the removal of dead skin cells, the strengthening of skin tissue, and the protection of the skin from sunburns.
Furthermore, coconut oil is an excellent antibiotic, allowing you to deliver a major blow to any bacteria, fungi, or viruses. Coconut oil has even been shown to be useful in the treatment of skin ailments such as dermatitis.
While these natural skin remedies may help you, to get better skin care, you can opt for Dr Batra's® skin treatments that include:
Dr Batra's® HydraFacial Skin Treatment
Dr Batra's®Homeopathic HydraFacial is a new facial treatment that provides smooth, bright, and youthful-looking skin. It is a medically proven treatment that can help with a variety of skin conditions. HydraFacials are designed with the goodness of homeopathy, revolutionary Korean technology, and a serum made in Europe.
It is a 5-step facial treatment that produces noticeable favorable outcomes after only one session. This HydraFacial treatment is non-invasive and effective. The antioxidant serums administered during the treatment procedure contribute to the appearance of luminous skin. Unlike traditional facials, which can be damaging to your skin, the HyrdaFacial delivers immediate benefits on all skin types.
Dr. Batra's® Homeopathic MediFacial
Dr Batra's® Homeopathic MediFacial is a combination of advanced Korean technology; European formulated serum and active homeopathic ingredients. This gives you an effective treatment solution. Dr Batra's® Homeopathic MediFacial treatment can treat fine lines, wrinkles, pigmentation, skin tone, acne, scars, open pores, and oily skin. This gives your skin a radiant glow. Homeopathic MediFacial treatment by Dr Batra's® is natural, safe, and side-effect-free.
To know the perfect fit for you, ask our skin experts!
Dr Batra's® Healthcare has the experience and expertise of having treated more than 1.4 lakhs over the past 35 years. We have a success rate of 94.3% in treating skin conditions, including acne, pimples, eczema, and psoriasis as authenticated by American Quality Assessors (AQA). At Dr Batra's® Healthcare, our homeopathic specialists evaluate your condition, family, and medical history closely before providing customized Homeopathy treatment.
Book an appointment now!
Also Read: 10 questions you must ask before skin treatment
                   Why should you consult a homeopathic doctor for your skin problems?