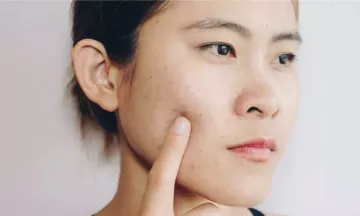 WHY SHOULD YOU CONSULT A HOMEOPATHIC DOCTOR FOR YOUR SKIN PROBLEMS?
Glowing, healthy skin can fill you with a surge of confidence even on your roughest days. However, for a lot of us, clear skin is no less than a dream.
We push ourselves to do our best when it comes to meeting targets at work and also managing our household responsibilities. As we go about our busy routines, our skin ends up bearing the brunt of our hectic lifestyle. In a rush to meet the demands of our gruelling schedules, skin care often takes a back seat. The result is soon visible in the form of skin problems.
Let's have a look at some of the common skin problems:
Acne: It is one of the most common skin issues experienced by people. It is commonly seen on the face, neck, shoulders, upper back and chest. Though it is potentially harmless, it can leave acne scars which can be very difficult to get rid of.
Eczema: It is a common skin condition known to leave you with red, inflamed and itchy skin.

Eczema skin disease

tends to flare up periodically and hence requires proper treatment.

Psoriasis: It is an autoimmune skin condition which is known to cause scaly skin that may be itchy and sometimes even painful.

Psoriasis skin disease

is often seen on elbows, scalp, knees and lower back.

Vitiligo: It is a chronic condition characterised by

white patches on skin

. The white patches are a result of the loss of the pigment which gives our skin its colour.
Read more about the different types of skin problems https://www.drbatras.com/all-skin-condition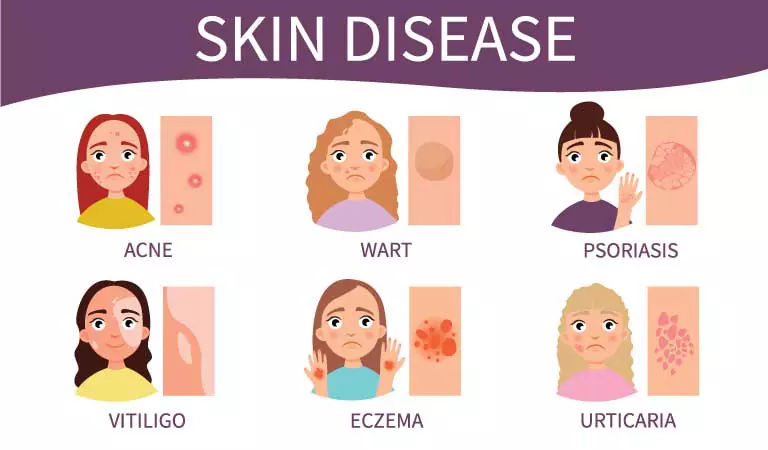 What Causes Skin Problems?
If we talk about the causes of skin diseases, they can arise due to internal factors or environmental factors. Many skin problems such as an acne skin condition; can arise due to clogging of skin pores because of excessive sebum (oil) production, bacteria, and exposure to dust and pollution.
It is said that your skin is a reflection of your inner health. Therefore, skin problems can also arise due to underlying health problems such as polycystic ovary syndrome, thyroid, asthma, allergic rhinitis and other forms of allergies, changes in diet, stress, reaction to certain medicines and so on.
Treatment of Skin Problems
Once skin issues take control, we start looking for skin care tips on the internet, in magazines, on social media and so on. We ask our friends who are blessed with clear skin, how they manage to do so. We spend on expensive skin products that claim to make our skin condition better. Some of us even spend a lot on the best skin treatments available in the market in the hope of improving our skin condition. However, all these options offer only temporary relief, if any and are usually not the answer to our skin problems. In some cases, they can even aggravate your skin condition.
So what can one do?
Homeopathic Treatment for Skin Problems
When it comes to your skin, it is advisable to use natural means of treatment. They would treat your skin issues without causing any damage. Homeopathic medicines are made from natural ingredients and are therefore safe from any side-effects. The best part about homeopathic treatment is that it does not work to suppress the symptoms but it treats the ailment from the root, thus providing long-term relief. Homeopathy is also effective in treating the different underlying conditions, such as thyroid, PCOS, nutritional deficiencies, low immunity, allergies, stress and so on. Therefore, homeopathic treatment helps bring down the possibility of recurrence of symptoms and also improves your overall health.
Find out your immunity score. Take the adult immunity evaluation now: https://www.drbatras.com/adult-immunity-evaluation-test
A study published in European Journal of Integrative Medicine talks about how homeopathy helped in treating chronic skin ailments. A total of 204 patients with chronic skin diseases were evaluated of which 125 patients received homeopathic treatment and 79 patients received conventional treatment. The study found that the treatment of chronic skin diseases with homeopathic remedies appears to be more safe and satisfactory to the patient when compared with conventional medication, with improvement in quality of life and general health up to 2 years after the start of the treatment.
Your skin represents you every single day of your life and hence deserves your complete attention and investment. Through our team of experienced homeopathic doctors, Dr Batra's can help you heal from your skin problems through the effective and safe means of homeopathy. Book an appointment with us and help us help you achieve the clear, healthy skin of your dreams. https://www.drbatras.com/book-an-appointment