Dr. Batra's™ - Deepti Subhash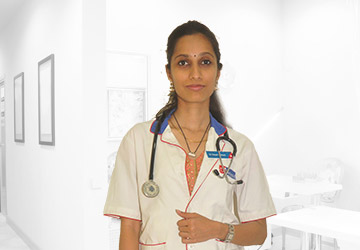 Deepti Subhash
Deepti Subhash
Dr Deepti Subhash joined Dr Batra's™ Powai clinic as a clinic head two years ago. She has also worked as a new-patient doctor at the Thane clinic. Previously, she has worked as the Clinic Head at the Pimpri clinic, Pune, and as a new-patient doctor at the Shivaji Nagar clinic, also in Pune. She has been practising homeopathy for a total of six years.
Educational qualification
Dr Deepti Subhash received her Bachelor of Homeopathic Medicine and Surgery from the Nashik University.
Professional achievements
Dr Deepti Subhash received a Certificate of Excellence at The WOW Service Award in 2015. She scored 100% in a company Mystery Audit. She has completed a training in cosmetology and chemical peels from Perfection Cosmetology Centre and Training Centre.

Dr Deepti Subhash specialises in acute as well as chronic ailments, especially allergic bronchitis, asthma, arthritis, migraine, hair fall, irritable bowel syndrome, skin diseases, piles, musculo–skeletal disorders, children's diseases, digestive problems, genito–urinary disorders and gynaecological disorders, among others.