Dr. Batra's™ - Kishor Kumar Allaka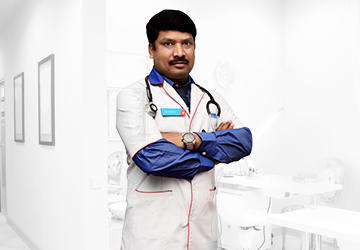 Kishor Kumar Allaka
Kishor Kumar Allaka
Dr Kishor Kumar Allaka is a consultant at Dr Batra's™ Positive Health Clinic, Visakhapatnam, since July 2015. He has been practising homeopathy for the past 16 years.
Research
Dr Kishor Kumar Allaka has been a clinical research coordinator in cardiac therapeutics application and clinical trials (GlaxoSmithKline and CliniSys Pharmaceuticals) on statins and anti-platelets in Care Hospital, Visakhapatnam.
Educational qualification
Dr Kishor Kumar Allaka obtained a Bachelor of Homeopathic Medicine and Surgery degree from Dr G.G.H. Medical College (Gudivada), NTR University of Health Sciences, Vijayawada. He also has an M.B.A. in hospital administration from the Nagarjuna University, Guntur.
Dr Kishor Kumar Allaka specialises in acute as well as chronic ailments, especially in allergic bronchitis, asthma, arthritis, migraine, hair fall, irritable bowel syndrome, skin diseases, piles, musculo–skeletal disorders, children's diseases, digestive problems, genito–urinary disorders and gynaecological disorders, among others.