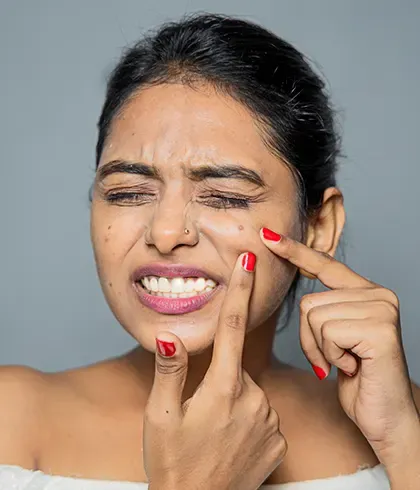 Homeopathy Treatment for Acne & Case Study
Authored by
Dr Mukesh Batra
ACNE, or pimples, is a common skin blemish, or cosmetic embarrassment. It can be treated effectively and safely with homeopathy, from the insideout. Not just on the surface, or outside of the skin.
How Homeopathy treatment helps you to get rid of Acne?
Homeopathy treats the "soil," or the "root" of one's "pimpled" distress, unlike conventional acne lotions, creams, or medications, which provide only momentary relief, aside from harmful sideeffects. Put simply, homeopathic treatment addresses the "source" of acne, with each individual, instead of merely masking the external symptoms of the problem.
Case Study of Homeopathy Treatment For Acne
Rachel (18) suffered from acne since her first periods. She had pimples all over her face, neck, and upper back. Her problem seemed to worsen after eating sweets, during summer and sweating, following a workout at the gym. When we spoke to Rachel we found that she was comfortable while breathing through her mouth - and, not her nose — during sleep.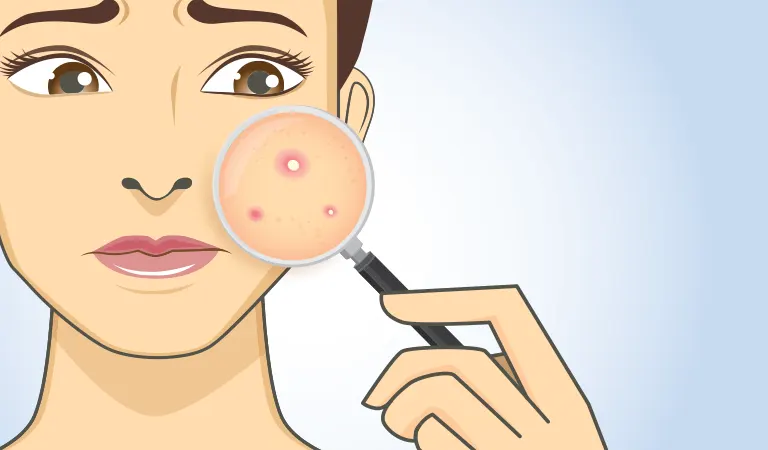 She loved sweets and rich, spicy foods. She also tended to break into anxiety spells, at the thought of an imaginary, or difficult, situation. Her bowel movements were sluggish. She also said that she had an explosive temper, but dreaded to be alone on the balcony or the terrace of any building during parties. This meant that she had a fear of heights. We prescribed her the homeopathic remedy, Sulphur.
After four months of treatment, her "pimpled" imperfection was gone. She also reported that her bowel movements were normal and her cravings for sweets were almost inconsequential. A homeopathic clinical study was conducted at Obitsu Sankei Hospital in Kawagoe, Japan. In the study, 60 people were enrolled to determine the effects of individualized homeopathic remedies on several common skin disorders.
These included acne, atopic dermatitis, urticaria, psoriasis, and hair loss. The treatment extended over three to 31 months. The researchers used standard practices and also the participants' assessment, improvement or otherwise, to assess outcomes. At the end of the study, six subjects reported complete recovery, 23 reported 75 percent improvement, 24 found 50 percent improvement and seven had 25 percent improvement. Overall, 88.03 percent of subjects reported medical supervision only more than 50 percent real-time progress on all parameters, without sideeffects.
FAQs
Does homeopathy treatment work for acne?
Acne can be effectively treated using homeopathic remedies. Homeopathy not only manages the excess sebum secretion that causes acne, but it also cures the underlying causes, such as PCOS, among others. Homeopathic remedies have no side effects and can successfully treat acne.
What are some fundamental acne-prevention skincare tips?
The very first step is to keep your face clean. Wash your face with a gentle cleanser twice a day to remove pollutants, dead skin cells, and excess oil. Moisturize your skin with a moisturizer that is suitable for your skin type. Do not overuse cosmetics; instead, apply them sparingly to avoid aggravating the acne. Also, keep your scalp clean and your hair away from your face; hair products can often wreak havoc on your complexion.
Why do we get pimples with pus?
Acne occurs when your skin's pores become clogged with oil and dead skin cells. This results in a pustule, which is a red, sensitive lump on the skin's surface. Because of an infection of the pore cavity, the pustules have pus at their tips.
What exactly are acne scars?
Acne scars are deep indentations left on the skin's surface. Picking at acne or a blemish commonly causes it. Acne scar removal requires more time.
Is homeopathy effective for acne?
Homeopathy has a wide range of applications in the treatment of acne. The medications can eliminate breakouts over time, they aid in addressing the issue of hormonal imbalances during PCOS, pregnancy, and menstrual cycles. Homeopathic treatment for acne reduces skin oiliness and prevents acne scars.
Can homeopathy cure acne permanently?
Homeopathic medicine offers long-term solutions for the prevention of acne formation by targeting the root causes or triggers. It helps regulate the causes of hormonal fluctuations or disturbances. It also helps reduce acute symptoms of acne-like pain, inflammation, and swelling. According to a case study by the National Center for Biotechnology Information (NCBI), it is suggested that there is a remission rate of more than 80% in patients using the individualized homeopathic treatment for acne.
Why Choose Dr Batra's® Healthcare
Over the last 35 years, Dr Batra's® has specialized in treating over 1.4 lakh patients with skin problems successfully. After an in-depth consultation, a unique acne treatment is planned out. This incorporates homeopathic medicines to prevent acne and lifestyle tips for the complete well-being of the patient. We offer the best possible solutions to every patient suffering from acne according to their requirement. Dr Batra's® New You range of skin treatments which include Hydrafacials and Medifacials combine the goodness of Homeopathy with the latest FDA approved serums and international aesthetic solutions. They offer safe, painless and quick results for all skin problems including acne.